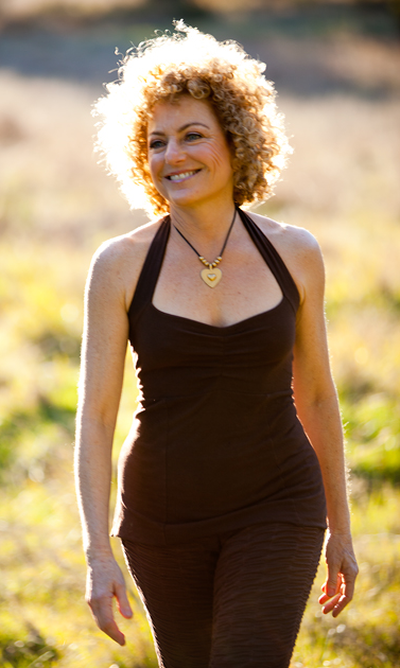 My Story
Me now in my sixties!
It's a celebration and...
a challenge!
I celebrate that I have made it so far and still feel young.
I am challenged to continue to cultivate the full radiance of my womanhood and, to encourage other women to step into theirs!
Womanhood for me is about nurturing, healing, transformation, and cultivating love in all of its' spiritual dimensions and forms. I am deeply passionate about the evolution of human consciousness and the living embodiment of spirituality.
Professionally I am in service to women of all ages and the men in their lives who want to stand more fully in their loving power. Towards this goal I teach Compassionate Communication Skills, Somatic Embodiment, Movement Awareness, and Yoga/Meditation classes. I also offer individual Coaching for Transformation and individual Somatic Embodiment sessions.
I midwife women who are going through important transitions in their lives, to blossom in to their fullest selves. Helping them to find out what really matters to them at the core, to let go of old ways that no longer serve, to inhabit the body in an honoring way and take steps to create lives that radiate their light of love into the world.
I work with men who want to get more in touch with their feelings, more in tune with their bodies, and who want to be more supportive allies for the women and other men in their lives. I work with couples to help them establish healthy communication and intimacy skills.
Personally, I am a gentle wild nature woman who loves to climb mountains, swim in primordial rivers, walk the deep forests, sit in silent communion with nature and dance and sing with others, hearts and hands connected in the joys and sorrows of life.
Having come to a deep relaxation and ease with simply being my natural self, I finally am the reflection of all that I value and stand for. I am filled with gratitude for what shines forth through me, the bright playfulness of my ageless spirit, the joyous loving kindness of my heart, and the light of my vitality.
What truly inspires me is to be able to feel the magical wonder of this miracuous life, to express my love fully, to be in deep gratitude for what is given and to help others experience the joy of being alive.

How I Evolved...
Transformation came early in my life. As a young child I had many health challenges that turned me inward setting me on my unique journey into the nature of the inner world of perception and self healing. Summers spent in the rural countryside captured my heart turning me into an ardent naturalist and teaching me that the connection with the earth and all of her beings is essential to well-being.
I was a child on fire with life, so illness and my inward turning didn't squelch my childhood passion for outer expression and creativity. My life was an exploration fueled by curiosity about how life works on the inside and how to express that on the outside. I dove into the visual arts and dance.
Growing up in NYC during the radical cultural, social, psychological and spiritual revolutions of the 50's 60's and 70's put me right in the middle of a vast landscape of cultural avante garde thinking and experimentation which had an enormous influence on me and catapulted me forward in my changes.
The inner realms of my being were the substance of my creative expression. After graduating college with a degree in fine arts I soon realized that making art outside of myself was did not fit my vision to be a living creative expression of the fullness of my being.
With this in mind I turned my attention to dance, which felt to me to be a more direct vehicle for this vision, because my body, energy and psyche were the medium of expression. I became a performing modern dancer and choreographer. The challenge of being a performing dancer drove me deeper into myself as it became clear to me that the alignment between my mind, heart, body and spirit was essential for my successful expression as a dancer.
I delved deeply into the nature of how these aspects of human life are interconnected. I immersed myself in the practices that would help me bring my body, heart, mind and spirit into balanced alignment. Along this journey I stumbled in to the interpersonal realm which is the "the how" of what happens between people in relationships and how this influences what goes on in the inner realm of the individual.
The study of interpersonal relations expanded my understanding of the relationship between inner and outer. It helped me to see how the way that we speak with, listen to each other and share our energy non verbally is an integral part of our healing journey and well-being, I saw that when we become skilled in our verbal and nonverbal communication we can contribute more fully to healing, wellbeing, health and peace in the world. This understanding has become an integral aspect of my work.
I use my life as the main learning laboratory for my transformation, truing myself to the wheel of learning and growth between the inside and outside. Although all of life's circumstances, relationships, travels, and work, have been my teachers, I have developed myself through an extensively rich array of personal therapies and professional trainings.
I completed graduate degree programs and trained extensively at private professional institutes of advanced training in the fields of Movement Analysis, Dance Therapy, Non Verbal Communication, Somatic Body Work, Body/Mind Integration, Counseling, Eastern Spiritual Philosophy, Yoga and Qi Qong, Professional Coaching, Group Process, Transformational Body Work, Western Tantra and Human Sexuality, and NonViolent Communication, also known as Compassionate Communication, and transformational business building.
For the past thirty years I have lived primarily on the west coast of the US mostly in Northern California and on the island of Maui. This has allowed me to immerse myself in the wonder of the natural world more fully since much of California is wilderness or parkland and Maui is surrounded by the vast ocean. Having also traveled all over the world I consider myself somewhat of a world citizen who values diversity of culture and adventuring out of the familiar.
I have explored myself and the nature of human existence and healing, since childhood. For four decades I have taught and guided others in the deep waters of human life, guiding and nurturing understanding, healing and growth. I invite you to learn more about the specifics of the approaches that have influenced my unique perspective here.